These are very tasty and filling!  They work best with eggplants that are about 3 inches in diameter, with tomatoes about the same size. If you are keto or simply prefer, skip the bread entirely and use the eggplants as the "bread".  Use any cheese that you prefer, but the stronger flavoured cheeses add to the whole taste.  Sometimes we do not use the egg/panko crumbs, and that works too – simply pan fry the eggplant until nicely brown.
Ingredients:
A good-sized eggplant, cut into ¼ inch slices.
One tomato slice per sandwich, about ¼ inch in thickness, one per two eggplant slices. (Such a versatile recipe, the image to the right uses delicious cherry tomatoes, halved).
One cheese slice per sandwich.
Panko crumbs for the eggplant slices. Also one beaten egg for dipping.
Fresh herbs – can be oregano, basil, thyme, a mixture, or whatever you prefer.
Oil for the eggplant slices.
Bread slices (optional).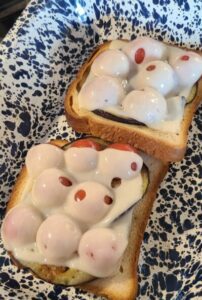 Directions:
Prepare a cookie sheet with a little rub of oil; turn the oven to 375F, with a shelf in the centre of the oven.
Slice the eggplant, tomatoes and cheese.  Cut the herbs. 
Put some panko crumbs in a shallow bowl; beat an egg in another shallow bowl.
Prepare a frying pan by heating a thin layer of oil at about medium heat.
Dip each eggplant slice in the egg, then in the panko crumbs, then sauté in the frying pan for a couple minutes on each side to cook the eggplant until tender. Keep moving the slices around a bit, so they do not burn, just until they golden.  Also, sometimes a bit more oil needs to be added.
Arrange a single layer of eggplant slices (on top of a slice of bread if you like), on a cookie sheet.  Add a tomato slice and cheese slice to each eggplant.  Sprinkle any herbs as desired on the cheese.  Add another eggplant slice, to each sandwich, if you like.
Put the cookie sheet in the pre-heated oven, and cook until the cheese is nice and melted, several minutes. 
Enjoy!  They can be eaten as a closed or open sandwich, or with a knife and fork.
Eggplant photo in featured image courtesy of Dion Black via Unsplash.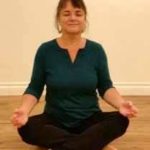 Dorothy Fizzel is a graduate of the SOYA program and former SOYA lead teacher trainer who lives in Pitt Meadows, BC, with her husband, Del and two adorable kitties, Luke and Leia.