Sacred Sanskrit, and Asana, Pranayama, Meditation – June 12-13, 2020
Register with Natasha Scott
Starlit Yoga, 102 – 100 Nanaimo Ave E, Penticton BC
Friday 5-9pm $20 plus gst
Sat 1-5pm $55 plus gst
Event Details
Explore the beautiful, deeper teachings of yoga as taught by our great yoga masters of the past. Mugs McConnell brings clarity to the practices, making them accessible for further practice on your own.
Workshop Agenda
June 12 Sacred Sanskrit 5 – 9pm
The Sanskrit language is an original sacred language, and the "Devanagari" script translates to "the language of the gods". Curious? Join us to explore pronunciation, writing, mantra and chanting in this ancient language of yoga
June 13 Asana, Pranayama & Meditation 1- 5pm
This weekend is based on yoga techniques drawn from Mugs' book "Letters from the Yoga Masters" including asanas from Swami Gitananda's system, the Upanishad mantra meditation, and a guided pranayama focused on Brahma, Vishnu and Siva and specific areas along the spine.
Please bring your copy of the book. Mugs will have some for sale as well.
Register with Natasha Scott
Starlit Yoga, 102 – 100 Nanaimo Ave E, Penticton BC
Email: starlityoga@gmail.com
Web: Starlit Yoga
Phone: (250) 328-2854
Cost
Friday 5-9pm $20 plus gst
Sat 1-5pm $55 plus gst
Additional Workshop
SUNDAY June 14
MUGS WILL BE AT PURPLE LOTUS YOGA
9-12:30 teaching additional & different practices.
Meet Your Instructor
Marion Mugs McConnell has been practicing yoga for 47 years, teaching yoga for 42 years, and training yoga teachers for 25 years. She is a founding member of the South Okanagan Yoga Academy (SOYA).
South Okanagan Yoga Academy is a Registered School with Yoga Alliance and the Canadian Affiliate for the International Yoga Teachers Association (IYTA). In 2020 we celebrate 25 years of training yoga teachers!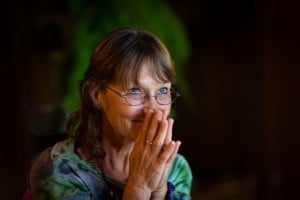 Do you have additional questions?
Soya Yoga Teacher Training has been training for over 25 years, we've seen alot. We'd be more than happy to discuss your goals. Please contact us if you have any questions about any of our programs.