This simple vegetarian dish will satisfy your rich tastes as a breakfast, lunch or dinner entree, and even as next day left-overs! We hope you enjoy this easy and delicious recipe from our very own Terri McDermott.
1/3 C Breadcrumbs    
3 T Flour
1/3 C Parmesan cheese, shredded
8 Sheets Phyllo Dough, thawed  
2 Cloves Garlic, minced
½ C Butter, melted           
1/3 C Onion, finely diced
2 T Olive Oil
¼ C Sun Dried Tomatoes, finely snipped
1 T Dill Weed
¾ C Milk
3 Eggs, beaten
1 ¼ C Ricotta Cheese
¾ C Goat or Mozzarella Cheese, crumbled
10-12 oz Spinach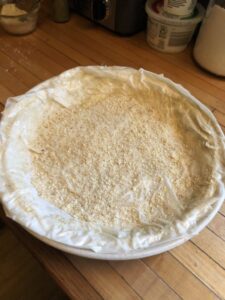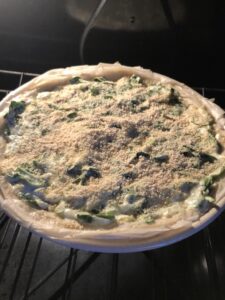 Preheat oven to 325F.  Combine crumbs and Parmesan cheese; set aside. Unfold phyllo dough; remove 1 sheet of phyllo dough. (Cover remaining dough with plastic wrap to keep it from drying out). Lightly brush phyllo with some of the melted butter; sprinkle with 1 T Parmesan cheese mixture. Place another sheet on top of the first; brush with butter and sprinkle with Parmesan cheese mixture; repeat until all phyllo is used.  Gently ease phyllo into a 2-quart baking dish, pleating as necessary, be careful not to tear the dough. Trim edges with scissors so they extend 1/2-inch beyond the dish. Cover and set aside. Set remaining breadcrumb mixture aside.
In a medium saucepan cook onions and minced garlic in hot oil for 1 minute; stir in flour and dried tomatoes. Add milk all at once. Cook and stir until mixture is thickened and bubbly.
Place beaten eggs in a medium bowl. Stir about 1/2 of the hot mixture into the eggs to temper them; return all to the saucepan. Stir in ricotta cheese, dill, 1/2 cup of the mozzarella cheese, and the spinach. Spoon into the prepared dish. With scissors, snip extended phyllo at 1-inch intervals. Top with remaining cheese and the remaining Parmesan crumb mixture.
Bake uncovered, in a preheated oven for about 45 minutes or until egg mixture is set and golden brown. Let stand 10 – 15 minutes before serving. Serve warm or at room temperature. Enjoy!