Travelling to India for a temple tour alone at age 74!
My trip to India for a temple tour was a bit as I had imagined it, and quite a bit more. I had so many ideas and so much advice given to me before I left that it made my trip more secure, comfortable, and enjoyable.
I started my journey on my own. I arrived in the birth village of Krishna – Vrindavan. It could not have been a better choice. Right away I was steeped in the intense spirituality of the place.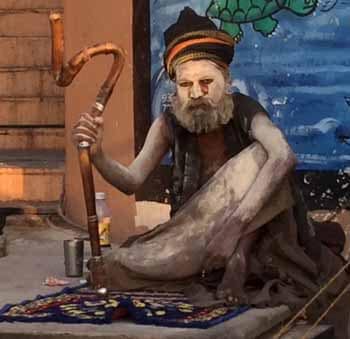 And there I met a couple of Krishna devotees that took me to Rishikesh and Haridwar. They were wonderful companions and guides. They arranged my plane tickets to Varanasi and Chennai. I stayed in "Home Stays" where I got to meet the families and made friends with them. I visited temples, walked the gats, and assisted in arati ceremonies along the Ganges.
The Ganges is so alive. I never felt her as unclean as people think she is. To me she was pure and crystalline… I did not drink her water though, just in case. Visiting a waterfall, I felt the water coming through Shiva's hair, falling on my feet, and refreshing me.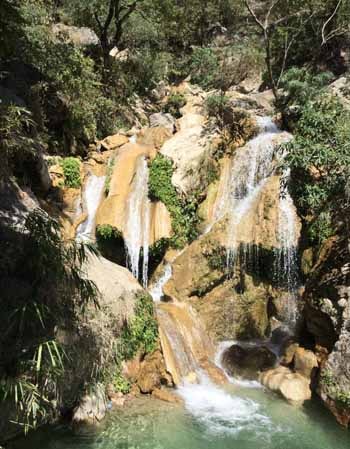 I arrived to Chennai where an Uber!!! taxi took me to the hotel to meet Helen and Bev. And there started our extensive tour of Tamil Nadu's temples. Helen did an extraordinary job preparing a very rich itinerary. We did mantra practices to the gods and goddess for each temple, spending a little time at every stop. We visited big and small temples, and we all agreed we preferred the smaller, more intimate ones. I learned quite a bit about new forms of God, especially relating to the planets. This trip opened new avenues of fascinating studies, and many more ways to worship God in His infinite forms. I owe a debt of gratitude to Helen.
After I left the tour with Helen I headed to Pondicherry, where I got to meet with Dr. Ananda. He gave me a tour of his ashram and the following day he invited me to the teaching hospital where he is instituting a section of yoga therapy into the hospital. I even assisted in part of a yoga class given to patients and staff. I was so moved by his kind invitation and the time he dedicated to me. I would love to register for the yoga therapy course given there…may be one day!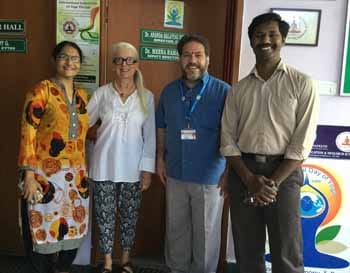 And there I am brimming with emotion, flavors and colors of this extraordinary trip. Lots of love, Latika
Latika (Pierrette Claude) is a SOYA teacher (E-RYT500) who is passionate about the philosophy of yoga and what it offers us. She will be leading the philosophy studies at the SOYA 200 hour yoga teacher training in Mexico this November.