EXPLORING ESSENTIAL OILS at the PURA VIDA YOGA RETREAT IN COSTA RICA.
Terri McDermott shares a bit about essential oils…
After 20+ years working within the medical profession as a Certified Medical Assistant, as well as my education and continued studies of Anatomy, Yoga and Ayurveda, I have come to the realization that nature offers us some amazing products for our health.
Essential oils, derived from nature, in conjunction with yoga, pranayama and meditation have been my constant "go to" for stress, anxiety, clearing energy channels, the common cold and boosting the immune system. The benefits of each of these components used individually or in combination with one another can be easily incorporated into our daily routines, assisting the process of healing in so many ways.
When I say essential oils are derived from nature, what I mean is they are natural compounds extracted from various parts of a plant, such as the flowers, leaves, stems, and roots. The oils can be taken topically, aromatically with a diffuser, and in some cases internally. As the oil is concentrated, it is very potent, so not a lot is needed to produce the desired effect.
So what do essential oils do? Researchers continue to study the effects of essential oils. Some studies have shown that lavender helps to reduce anxiety, tee tree oil can help one feel more grounded, and lemon oil can elevate your mood. The oils can be used as a natural deodorant or even a perfume. Some oils have been shown to help with digestion, normal hormone function and inflammation. Headaches have different causes so there are a variety of oils for relieving them. Peppermint oil can be used for sinus headaches, chamomile for stress headaches, and lavender for tension or migraines. These are just a few examples of how these oils from nature can assist us toward a healthier life.
I am excited to share with you at the Pura Vida Yoga Retreat some of what I have learned about essential oils. We can explore a bit each day on the use of the oils, and if you want we can do a bio-impedance test to assist you with determining the essential oils your body is lacking and how they can benefit you! I hope to see you there!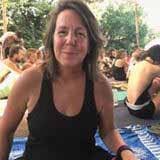 Terri McDermott is an E-RYT200 from Traverse City, Michigan. She is a passionate yoga teacher who is leading the Pura Vida Yoga Retreat with Mugs McConnell next March 1-8.
Terri will be leading asana classes and a session on essential oils. Mugs will be sharing teachings from her book "Letters from the Yoga Masters" and doing daily pujas, along with all the outdoor adventures we can take in!