Close Your Eyes, Breathe and Find Awareness
I am so grateful for the teachings of so many teachers before me and the lessons of the course I've recently begun! Dr. Ananda Balayogi Bhavanani of ICYER, is leading a year long program, Yoga Step by Step, created by his father Dr. Swami Gitananda Giri many years ago. Lesson 4, titled Awareness of Yoga, is reminding me that awareness of the physical body; emotions and their impact on the body; the mind and how it controls the body and emotions; and lastly awareness of awareness or the lack thereof, must be developed for the sake of my evolution.
During these times, COVID or not, it is often difficult to devote time to a steadfast practice with work, teaching, friends and family and any other obligations one has on their plate.  Take the small moments, any little bits of time available and sit in Vajra Asana and relax.
Breathe and relax.  Breathe and relax. Breathe and relax.
Be conscious of the path of your breath in and out of the body.  Try to stay focused on the breath and nothing more.  As our mindfulness practices teach us, when you inhale, know you are breathing in.  When you exhale, know you are breathing out.  Note the thoughts that may creep in, the sensations that move throughout the body while still.  If it becomes too uncomfortable, adjust.
Breathe and Relax.  Breath and relax.  Breathe and relax.
The more you practice, the more you will become adept at halting these disturbances.  Maybe focus on a mantra, a single word such as love, peace, gratitude.  As one of my lessons from Mugs of SOYA taught me early on, one can liken meditation to that of the dyeing of a cloth.  The more we dip ourselves into it, the more we deepen in the practice.  Allowing these habits to soon ebb over into your every day life and find Dharana, concentration, awareness, filling your moments, your days.
Even if only a few moments present themselves to you throughout the day, Hari teaches us through Mugs to jot each of those minutes down in a notebook kept close and watch them add up to hours and days.
Let awareness fill your days in observing your steps, your breath, your words, your actions, gaining control of your mind, your emotions, your body.  Examine your hand and the wonders in its movement, it's ability to do so many things, the nerve endings and the amazing energy they carry, the connection they have to the rest of your body.
Focus and concentration.  Focus and concentration.  Focus and concentration.
Find your way to yourself and your own divine light!
Thank you Yogacharya Dr Ananda Balayogi Bhavanani and Mugs!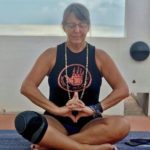 Terri McDermott lives in Traverse City, Michigan and New Smyrna Beach, Florida. She is a SOYA lead trainer and is leading several upcoming trainings this fall. She has an upcoming 300 hour immersion in Ann Arbor, Michigan, 200 immersion in New Smyrna Beach, Florida, and both the 200 hour and 300 hour online. Please visit www.soyayoga.com for all the details of these upcoming trainings.