Article and photos by Terri McDermott SOYA Lead Faculty, E-RYT500
"Let us pause, take a deep breath, soften our knees, bend over and touch the Earth, connect to its energy, brace ourselves and rise strong.  Then, as that little one, sigh, giggle and connect to our hearts with a smile.  Search our souls for wisdom and surrender to Divine will to guide us."  ~ Perinati
Walking the beach yesterday, I found myself in tears.  I'm not sure if they were tears of joy, sadness, fear or all of the above.  What I do know was that I felt a tremendous sensation in my heart as I released those tears – one of relief, of connection and most importantly finding a sense of inner stability again. In this past year I have learned a lot about who I am, about those around me, and about life.  
I sat to listen, quietly, to the sounds of the ocean, the birds, the wind, the crunch of the sand. Listening, observing, taking it all in as my body connected with nature. During this time, I watched a toddler attempt to regain her footing after taking a tumble.  I thought to myself, how I could easily relate.  This past year has brought numerous obstacles to each of us.  We've hit tipping points!  We've crashed and burned.  We've toppled over and some are still crawling, some are running, and some are standing firm.
This little one bent over, touched the sand, and as she did, I saw a smile come to her chubby, rosy-cheeked face.  She seemed to be so happy as she touched the sand and then firmly stood up with an "I've got this" look and took a few steps before the waves knocked her over.  Yet again, she rose!  She took her time, with a sigh and giggle, she rose.  I, too, have tumbled many times this past year.  Sometimes I rose immediately, taking a stance and standing firm.  Other times I hesitated, wondering what to do next.  There were some days I stumbled and stayed right where I was, retreating into the darkness. 
What were the differences in these times?  Was it fear I felt?  Was it my ego that made the decision to hold me in place? Was it a sense of non-attachment that arose within me that allowed me to arise and stand firm at other times? I'm not quite sure I know the answers to these questions, but I'm happy to say that I'm sure something was learned with each step or tumble taken in 2021.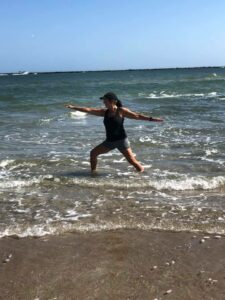 I realized something in those moments in observing this little one: we are born with a resiliency that is alarmingly strong.  I realized that we have the capacity to move forward in everything that we choose to do because we have a CHOICE.  It is a CHOICE that we get to make, but those choices can and do come with so many different outcomes.  As a toddler, we've not made enough decisions or choices yet to learn that there are end results, we just take the steps.  As we grow and have experiences, we form preconceived notions of how to move forward in life.  
What if we were to shed those preconceived notions and act as if we were toddlers again, trusting that all we have to do is stand up and try again?  What if we choose to learn, to surrender to the will of the Divine and to trust in that guidance? 
Good, bad or indifferent-outcomes do not matter. Point being, do not be attached to them: The outcomes will be what they will be, as we go about life making choices.  If we continue to make choices based on the perceived outcome, we may have continued lessons to learn, until we finally find our way to stable ground that comes with trust. I invite you to join me,  instead of making crazy New Year's Resolutions that, oftentimes, set us up for disappointment, I invite you to join me in taking a different approach to the unknowns of 2022.  
Let us attempt to begin 2022 like that toddler on the beach.  If we make choices based upon connecting to our inner sources of wisdom, what have we to lose? Knowing we may continue to walk on unstable ground at times, but… "we can pause, take a deep breath, soften our knees, bend over and touch the Earth, connect to her energy, brace ourselves and rise strong.  Then, just as that little one did, sigh, giggle and connect to our hearts with a smile.  Search our souls for wisdom and surrender to Divine will to guide us." ~ Perinati.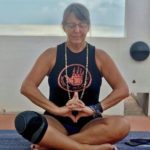 Terri McDermott, E-RYT500, IYTA
Terri's yoga studies have taken her on a path of spiritual growth and coaxing within her the need to continue to learn about the intricacies of the human body, the mind and spirit, she continues to be a dedicated student of yoga. She is the founder of Svastha Wellness and Peaceful Poses. She is currently offering SOYA 200hr and 300hr teacher training programs live online weekdays, the new Hybrid program formats, and immersions in Michigan and Florida.