SOYA 25th Anniversary. Twenty-five Years of Memories – Dorothy Fizzell
Twenty-five years with S.O.Y.A., with Mugs and Bob McConnell, with this amazing yoga!!  And actually, the connection has been much longer for me.  After graduating from university, I moved back to Penticton wanting to find a yoga teacher, as I had purchased Richard Hittleman's book, "Yoga: 28 Day Exercise Program" the year before.  So, in 1978, I found a class being taught by Mugs, who had recently graduated from the Sivananda Ashram.  But then she disappeared, and though I tried a couple other teachers, they didn't feel right. I was thrilled when Mugs returned to Penticton in 1979, after studying with Dr. Hari Dickman, and I continued taking her classes until 1998.
In the mid-90s, Mugs and Bob took over the South Okanagan Yoga Association, changing it into the South Okanagan Yoga Academy, and Mugs and Dariel Vogel created a yoga teacher training program, based on the I.Y.T.A. program.  One day, Mugs asked me out to tea, and told me she wanted me to be one of the first students in the program.  Yikes!  I had never considered teaching yoga! But in September 1995, along with two other students, Meui and Rockne, we began.  It took two and a half years, meeting once a month, usually at Dariel's home. (I remember having wine in the hot tub on occasion after a session!)  The three of us graduated in the Spring of 1998 with dinner and a celebration.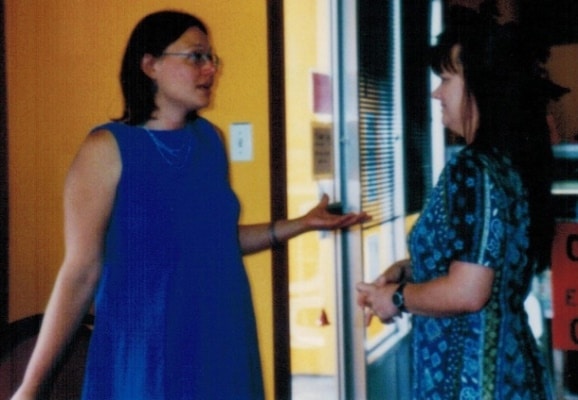 Meui and myself, now yoga teachers! 
Below, Dariel, myself and Mugs
Though the teacher training program has evolved through many versions, the foundation, the philosophy, and the depth of yoga has remained the same. From that first training session, the program grew, and though held in Penticton initially, people from long distances away recognized the value and uniqueness.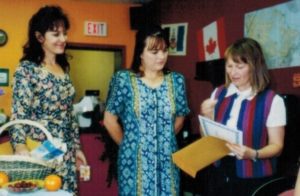 Many, many excellent teachers have graduated over the last 25 years from locations all over the world.  Some of the graduates took the training for their own personal growth, while many teachers went on to teach in the style of their choice, with the philosophical foundation and asana understanding from S.O.Y.A. to carry them forward.
S.O.Y.A. is about connection too, connections among teachers, and connections to community, with many of these connections continuing over the 25 years.  Even my son Thor, a teenager in the late 90s, was involved, as Mugs asked him to draw yoga asanas for our newsletter and for a couple of t-shirts.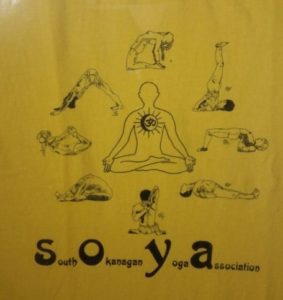 For 2001, a yoga calendar was created and sold, with S.O.Y.A. grads as models, along with lots of yoga philosophy.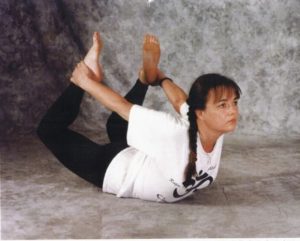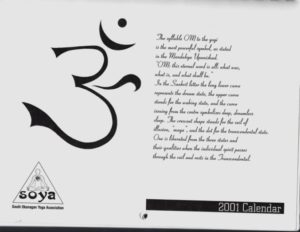 Through S.O.Y.A. , many interesting activities and events have taken place. One I remember fondly was when Dariel and I facilitated a yoga/hike up at Cathedral Lakes. Our group took a vehicle to the park, we hiked up above the tree line and did yoga, meditated and learned about the flora and fauna of the area.  It was wonderful!!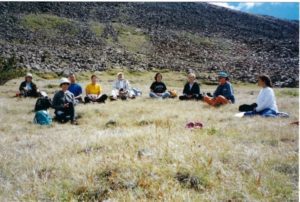 And the S.O.Y.A. Annual Retreats have been amazing!  The first retreat, participants learned from the faculty of S.O.Y.A., and since then, Bob and Mugs have worked incredibly hard to bring in a wonderful variety of superb yogis from everywhere.  The organization, the hard work, and the quality of teaching skills year after year have been outstanding.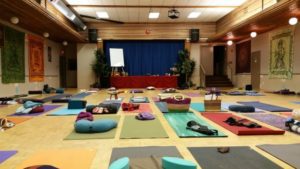 S.O.Y.A. has been extremely important in my life over the last 25 years!  My mother passed away the same month I started the teacher training, and the philosophy discussions helped me deal with my grief.  With other personal changes, S.O.Y.A., yoga teaching, and Mugs have always been there.  When I moved to Vancouver, hardly knowing anyone, I co-taught a two year 500 hour teacher training program and I started feeling connected.  When I hurt my back, it was asana, pranayama and meditation, along with teacher training that helped me become strong again. Even through dental surgery, focusing on slow dirga breath, plus chanting the Gayatri mantra to myself, helped me stay calm.
On a very personal note, it was Mugs who introduced me to my husband Del! He was taking the teacher training program in Fort MacMurray and she, along with Katherine LaBonte, the teacher trainer there at the time, thought we had lots in common so Mugs asked if she could share my email contact with Del.  We met a short time later, and have now been married 10 years!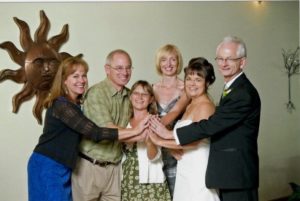 I would be a completely different person if I had not met Mugs, had not taken the teacher training program, had not taught and practiced through the last 25 years.  And I know that S.O.Y.A, through Mugs and Bob, have influenced many, many people in similar yogic ways.  Connection, love, learning, moving, gratitude, sharing, Truth – that is S.O.Y.A.   Namaste, Om Shanti