Spaghetti Squash – with Lemon Cream Sauce
Ingredients:
1 medium spaghetti squash (enough for 1 lb cooked)
1 lb vegetables cut into bite-size pieces (zucchini, summer squash, asparagus etc)
2 Tbsp unsalted butter
1 cup heavy cream
2 Tbsp extra virgin olive oil
Juice of 1 lemon
Zest of 1 lemon
½ cup grated parmesan cheese plus more for serving
Salt/pepper to taste
Preheat oven to 400 F. Cut spaghetti squash in half. Remove seeds. Brush the cut side lightly with olive oil. Place on a baking sheet (cut side down) and roast in the often at 400 F until tender but crisp, approximately 45 minutes. Use a fork to check to see if it is done.
Cool slightly. Scrape out the squash with a fork. Discard skins. Keep squash warm in a low oven (125 F).
While squash is roasting, sauté veggies in olive oil until tender but crisp. Set aside.
Sauce: In a saucepan or large sauté pan, melt butter. Add cream and allow to cook at a low simmer (do not boil) until the sauce thickens slightly. Fold in the veggies, lemon juice, zest, cheese, salt and pepper. Cook 1 minute more.
Divide the spaghetti squash onto four plates. Pour the lemon sauce over the spaghetti squash and sprinkle with additional parmesan cheese. Enjoy!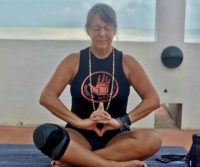 Terri McDermott is a lead trainer for SOYA. Her upcoming trainings include an immersion Oct 1 -18th Walloon Lake Michigan and an online training starting Sept 1st.