LET THE LIGHT SHINE by Terri McDermott, ERYT500, IYTA, Lead Trainer for SOYA
Walking the beach yesterday, I found this beautiful sand dollar at the water's edge. Because it isn't complete, I would usually have tossed this back into the ocean or passed it up. Today, as I held it in my hand and looked closely at it, it reminded me of so many things, so I thought I would share.
This lovely sand dollar is broken like so many of us and even the tiniest portion of breakage seemingly devastates us and sometimes is crippling on our journeys in this life. Look closer at this beautiful piece, pay special attention to the holes that penetrate the entire piece. Some are small, some longer than the other, but they represent to me, at that very moment, some of the darker times where the light had shone completely through.
At its center, the flower shape, hole or not, the home for Atman, our soul, in that lotus flower of our heart space. This space, so strong and loving, and never changing. This space we can rely on and depend on every day, every moment in this lifetime. Broken or not!
Take advantage of the darker moments in life and allow the light to creep into the dark crevices that may appear as frustration, hurt, anger, jealousy, low self-worth and so many other feelings that arise when darkness prevails.
Trust in your soul, awaken your spirit and allow for the light to shine completely through while it guides you to the answers that reside in that beautiful center of your heart! Search out the quiet, find the space and let Atman speak in ways you've never heard.
Peaceful Blessings to you today!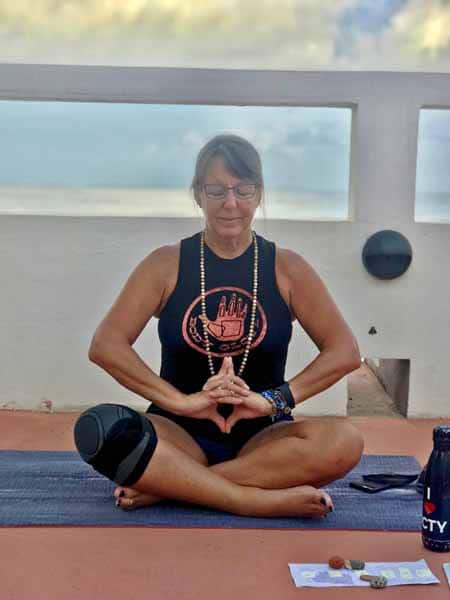 Terri McDermott lives in Traverse City, Michigan and New Smyrna Beach, Florida. She is a SOYA lead trainer and is leading several upcoming trainings this fall. She has a 200 hour immersion in Walloon Lake, a 300 hour immersion in Ann Arbor, and both the 200 hour and 300 hour online. Please visit www.soyayoga.com for all the details of these upcoming trainings.