My Yoga Journey as a Student with SOYA by Peggy Mitchell, SOYA 500
Early on a Sunday morning in September 2009, I arrived at Chinook Yoga in Prince George to tell Carla and Cindy I had decided to not enroll in SOYA's 500 hour yoga training program. I had several reasons why: I had 2 small children at home, money was tight, I wasn't a good enough yogi, but mostly, I was scared.
Cindy and the group of students there that morning convinced me to stay – even though they were part-way through the Upanishads and I had no idea what they were talking about! Seven months later, we moved from Prince George to Maple Ridge. I was thrilled to know I could continue my yoga studies with the SOYA group in North Vancouver. That group, led by Chris and Dorothy, quickly became a life-line for me. Chris and Dorothy would gently bring us back when, in philosophical discussions, we'd go off on tangents about the latest happenings in our lives (but somehow related to whatever book we were reading at that moment!)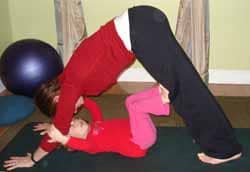 At some point during my 500 hour training, I became very interested in yoga nidra – and who doesn't love a super long Savasana? Every student in the advanced training must research a topic and write specialty project about it… maybe this would be my topic! I attended a workshop in Vancouver, further cementing my interest in this ancient meditative technique.
SOYA teacher training did more than certify me as a yoga teacher. It prepared me for life's challenges! Since I began my yoga teaching journey, I've moved to different towns, returned to the school system, and have taught Kindergarten through Grade 7. I've taught and assisted at many yoga classes and summer yoga camps. The one constant in my life has been my yoga practice. So many times I've thought to myself, "Thank goodness for yoga!"
In the past two years because of some health issues, I've been forced to take a step back from the asana limb of yoga. I've enjoyed this opportunity to explore meditation and experiment with a daily practice. Last winter, while feeling "stuck", I had a conversation with my sister and sister-in-law. With their support, along with that of my husband and kids, I decided to follow my dream and pursue further training in yoga nidra. Among the books I'll be reading are Patanjali's Sutras – my favourite from my SOYA training.
The SOYA training prepares its graduates for so much more than asana! It creates a solid foundation for all the deeper studies you may wish to embark on!
In conclusion, why am I writing this? I guess it's to acknowledge my journey… our journey… the wonderful people I've met along the way and their generosity of spirit. None of this would have come to pass had I not allowed myself to be embraced by the yogis in that room at the SOYA teacher training in Chinook Yoga Studio, back in 2009. So, thank you, friends and fellow yogis, Mugs and SOYA, for igniting that spark in me and for keeping it lit along the way. I've been so blessed and I am forever grateful. Namaste.