5 Things I've learned from Training Yoga Teachers
By Kamala Wilkie, E-RYT500 and lead trainer for SOYA Teacher Training in Penticton
Natasha Scott and I just finished leading our annual SOYA 200hr Immersion Yoga Teacher Training program in the Okanagan. I always joke with students at the beginning of the training that they might have thought they were coming to get certified to teach yoga but the Immersion training is actually a personal growth course disguised as a yoga teacher training. When I look around the room on the first day of training, I usually see eyes filled with doubt, fear and excitement. Their eyes have usually been opened while completing philosophy and anatomy lessons for several weeks prior to arriving to the residential 16 days training. Participants sleep, eat and breathe yoga from 7:30am-7:30pm, and a transformation happens that is nothing short of magical.
These are some of the insights I've had through the great honour of ushering in new yoga teachers over the past 6 years.
1.            Anchor before you speak.
Speak from a place that's authentically and intelligently you but humbled by the fact that you are a compilation of all the incredible teachers you've had so far with the magic fairy dust of Grace sprinkled on top. We are all there to be a clear and open channels so that the wisdom of yoga can be conveyed and received to the best of our ability. Speak from a place of service.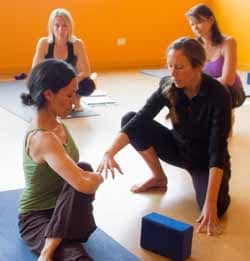 2.            You will need to get skilled in holding space for awkwardness, tears, anger, extreme appreciation, confrontation and mushy loveliness- yours or others.
How do you get skilled? Through the dedication of your own practice. Can you be present with your own emotions? Can you bear witness to Life's intensities without reacting? If our interest as yogis are in self inquiry and self-compassion, the work has to start on our own mats in the jungle of our own minds.
3.            Your level of self-care is proportional to the level of service you can provide to your students/fellow trainees.
Early on in trainings I noticed that when the quality of my own or student's sleep or nutrition was compromised, there's no energy to do either of the points above. Prana (life force energy) in the body is best supported through clean nutrition, rest and doing your practice and own inner work. The quality of your output is completely dependent on the quality of your input.
4.            The pull towards your fullest self is stronger than fear.
Trainees often arrive and admit to feeling vulnerable, like they don't belong, uncertain of their choice to be there or of their ability to lead a class. Yet, they show up. Not only do they show up but they recommit every day to a strong workload and long hours. We all have the voices that don't like change, the voices that can keep us from growing. This sense of separateness (I don't belong here) holds us back but the underlying longing to maximize our personal potential is so much more powerful. Sometimes it needs fertilized and watered (that's our jobs as yoga teachers) but it's always there.
5.            The value of community.
For your sanity, seek out like-minded people to bounce ideas off of, to answer questions, to guide and help you grow, to call you on miss-steps and to honour, reflect and celebrate paths you walk down. If yoga is a huge part of you, it's important to have people in your life who you can talk chakras and 8 limbs with and share the revelations that this kind of transformational practice can spark. Teacher training or your yoga studio /community often provide this kind of arena where very fundamental layers of you can be seen and shared.
If a 200hr or 300hr upgrade teacher training is for you next year, visit SOYA for the full listings of trainings in BC, AB & Mexico.