Parmesan Crackers and Cannoli
Mugs asked me to make some parmesan crackers the other day so she could take pictures of the process. I prefer making these to other crackers as they are very simple to make.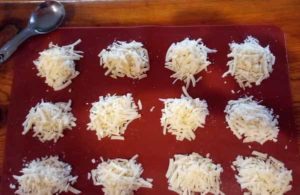 Pre-heat the oven to 400 degrees. Take a tablespoon of shredded parmesan cheese and put it on a baking sheet or silicone sheet which I use. I manage to get 12 piles on and then I bake them for 10 minutes. I watch them very closely toward the end of the time as you don't want the parmesan crackers to burn. You are essentially cooking the fat off the cheese and after they cool you have a gluten free crunchy cracker.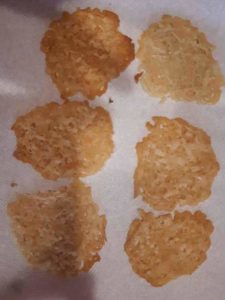 When they are done I have a few sheets of paper towel on the counter and I place the crackers on this to cool and to absorb some of the oil. I move them to cooling racks when the next batch is ready to go on the paper towel. You will need to wipe down the baking sheet of any excess oil before placing more cheese on it.
You can use cheeses other than parmesan, but the cracker tends to be a little chewy because of the fats. The PC Parmigiana and Reggiano cheese is
what I like best. It is very hard and I use a food processor to grate it. A straight parmesan works quite well though and may be a little less expensive.
Yeild: I get about 60 crackers out of 800 grams of cheese.
Cannoli
Now let's talk about Cannoli! We were at a wedding reception last weekend. Hanging out and talking with the guys, a conversation about the local restaurants in the area started. Someone mentioned a bakery sold cannoli made with a parmesan cheese shell. I thought to myself "hmmmmm I wonder if I could use my crackers as a shell?"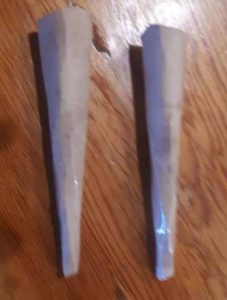 I've never had cannoli, so I got pretty excited. First I needed some tubes to wrap the cracker around. Out of cardboard, I made them in a cone shape (I think a rolled up straight tube is better).
Then I took two tablespoons of parmesan and created a slightly flattened pile, about a 3-4 inch circle. After they cooked, I immediately rolled the two large crackers around the tubes – they cool quickly and then it is not possible to roll them. I only made two at a time as they firm up very quickly.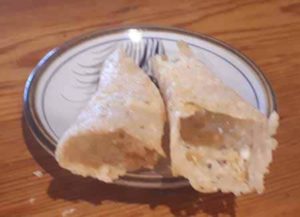 You have to be very careful as the cheese is quite hot, so I used a small spatula to help me with the process of rolling them. If food safe latex gloves would protect you from the heat, I would try those and get a little tighter rolled tube. Smaller tubes would require a little less filling, making the cannoli not so rich.
Once they firm up (in about a minute) the tubes can be removed.
The Filling
There are numerous fillings on the internet. Most of them have ricotta cheese and a orange or lemon zest.
My recipe is:
¾ of a cup of ricotta cheese
2 tbsp of cream cheese
1/3 of cup of Erythritol
3/4 tablespoon of lemon zest
¼ teaspoon of Vanilla Extract
¼ teaspoon of cinnamon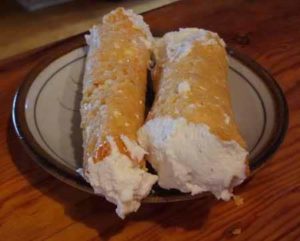 I mix everything together with an electric hand mixer until it is smooth and creamy. I don't have a pastry filler so I just spooned it in. Not the most elegant result, but good none the less.
This is fun to try. It amuses me doing things like this when I've hurt my back and I can't golf or work on the house. Food always seems to be a great solace when one is in pain 🙂
By Bob McConnell